no.8 Bed & Breakfast is the ideal place to relax and enjoy the region of Champagne-Ardenne.

A warm welcome awaits you in a renovated former winemaker's home in the heart of Champagne. no.8 is located on the route touristique de Champagne, in the grand cru Champagne village of Mailly Champagne within the Montagne de Reims National Park.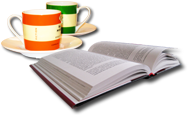 It's the ideal location to explore and discover the whole of the Champagne-Ardenne region, not just its world famous local wine - Champagne - but its rich history, friendly people, and beautiful countryside. You could explore 70 million years of the earth's history at the village's Geological Centre, meet the growers and producers who are the heart of Champagne, and sample a glass or two to discover what makes this drink so special.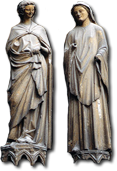 We're also ideally situated to visit the caves of the famous Champagne houses, Reims cathedral, which is now a UNESCO world heritage site (where you'll see sculptures such as these), or simply relax - walking in the vineyards, or exploring the famous medieval architecture of Châlon-en-Champagne and Troyes.

To help you make the most of your visit, we provide free guide books on the Champagne region and Maps of the Route Touristique de Champagne along with advice on the best Champagne villages to visit, viewing points for picnics and local events.

Guided tours of the Champagne vineyards can be arranged directly with these very experienced specialist Champagne tour companies, who all offer a unique and different tour experience, using their knowledge of the area and their contacts with local Champagne producers, they are able to tailor their tours to suit you:
Vini-vizit: Private, professional Champagne tours to local growers, aroma workshops.
L'Échappée Bulles: Guided mountain bike tours of the vineyards of Montagne de Reims with visit to local Champagne growers.
La Vigne du Roy: Private or semi-private, full or half day group tours of the champagne vineyards and visit, tasting.
If you enjoy walking, then we have many guide maps of walks around the vineyards taking in the local villages, where you can stop and taste a small grower's Champagne and Le parc naturel régional de la Montagne de Reims.

For sport lovers, we're within striking distance of the slopes, so a good location to rest if you're skiing, and we're right in the middle of two great golf courses. There's the Reims-Champagne course in Gueux, where you can also see the remains of the 1950s Reims Grand Prix circuit, and the Grande Romanie course in Courtisois, near Châlon-en-Champagne.

Mailly Champagne is 15 minutes from Reims and 25 minutes from Epernay - that's a 90-minute drive or 45-minute train ride from Paris, and less than three hours on the road from Calais, Boulogne-sur-Mer, or Brussels. So if you're heading further south, it's an ideal place to break the journey.

No8 Mailly Champagne, your home from home in the Champagne region. For you to relax, explore and enjoy.